The National Circular Plastics Standard Explained: Part 1
The clock is ticking and the pressure to meet climate targets is mounting. According to the Intergovernmental Panel on Climate Change (IPCC), CO2 emissions need to fall as much as seven times faster to reach the ambitious goals of the Paris climate agreement. With current progress, we are behind schedule, and this is causing concern.
In response to these growing concerns and the need to step up our efforts, the Dutch government set  a series of innovative measures in motion in April 2023. One notable measure that emerged from this is the National Circular Plastics Standard.
"The Netherlands has been lagging behind the climate targets for years. Now it is time to make the big leap."
– Minister Rob Jetten
How Does the Standard Work?
From 2027, there will be an obligation to use plastic recyclate and/or bio-based plastics for plastics manufactured in the Netherlands and put on the Dutch market. This obligation will start with a percentage of 15% (subject to change) and will gradually increase to 25%-30% in 2030. To enforce and monitor this obligation, an administrative trading system will be introduced, similar to the one used for biofuels. This system will allow the registration of Renewable Polymer Units, this is explained later in the article. In addition, plastic processors, also known as converters, will be required to register. This obligation will apply to about 1,000 companies, currently with no specific thresholds. This is an ambitious step that shows the Netherlands' determination to promote a circular plastics industry, but it also brings challenges.
To whom does the responsibility fall?
A crucial decision in the implementation of the National Circular Plastics Standard is the question of which link in the plastics production chain will be responsible. Will it be the polymer producers, converters – injection moulders, extrusion plants etc. – or the sellers of the end products? From CE Delft and NRK sources, the focus seems to be on converters, the companies that convert polymers into plastic products, indicated in the figure on the right by a purple box and number 4B.
Converters As The Designated Link
Injection moulding. Source: Better Future Factory.
Converters acquire their polymers through various channels, including distributors and compounders. Larger converters have the option of procuring their raw materials directly from polymer producers, both domestic and foreign. The approach of assigning responsibility to converters creates a level playing field between polymer imports and domestic production.
Assigning responsibility to converters has some drawbacks. First, it involves a significant number of companies, estimated between 900 and 1,300, which makes it challenging – but not impossible – to identify and subject all these relevant companies to the standard.
In addition, competitive disadvantages may arise for Dutch-based converters compared to foreign competitors that do not have to comply with the same standard. This may affect the competitive position of Dutch companies in the international market.
Moreover, imposing this responsibility entails additional administrative burdens, especially for smaller companies with limited resources and personnel. A possible solution to this could be to set a minimum quantity above which the standard applies, thus exempting smaller companies.
Trade Register for Renewable Polymer Units
Converters cannot always use recyclate because their production processes are usually tailored to specific raw materials. Not every type of recyclate is suitable for every production process, especially when strict requirements apply, such as food packaging. It is therefore necessary to establish a trade register. This register will allow certificates for renewable polymers to be traded, allowing companies to purchase the right recyclate and bio-based raw materials that fit their production processes and specifications. This contributes to the implementation of the National Circular Plastics Standard.
To implement this, CE Delft draws a clever comparison with the NEa Energy Register for Transport, which acts as a trade register for renewable fuels (HBEs), for plastics these could become Renewable Polymer Units (HPEs). These represent the proportion of recycled plastic, biobased plastic, or a combination thereof.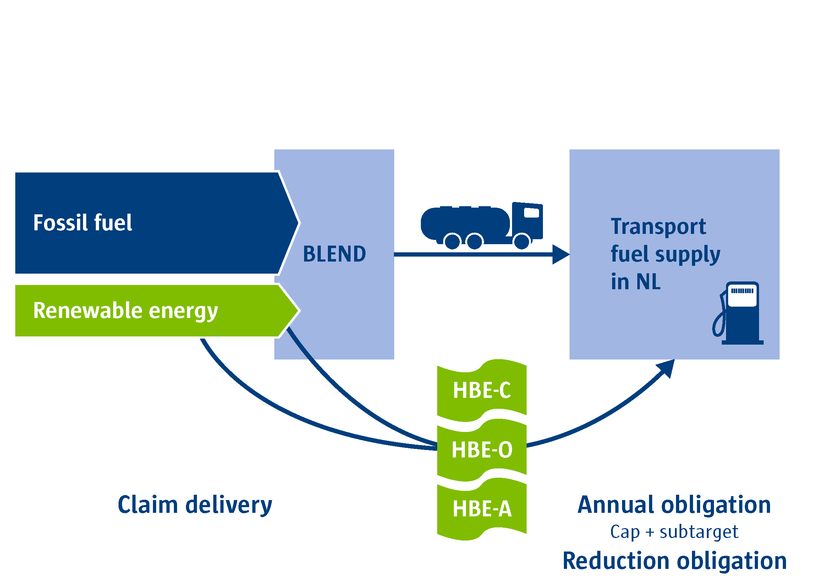 Companies can register their supplies of renewable energy in the Transport Energy Register as so-called Renewable Fuel Units (HBEs). Source: Nederlandse Emissieautoriteit.
Case study example: HPEs in Action
This is an example derived from CE Delft's report.
Company A, specialising in plastic windows and window frames, decides to use mechanically recycled PVC as a replacement for fossil PVC. They buy 1,000 kg of PVC and aim for 20% recyclate in their window frames. After registration, they receive 200 HPEs, but need another 100 HPEs to meet their commitment of 30% recyclate by 2030.
Company B, which produces electrical equipment enclosures, is also embracing sustainability. They use 40% recyclate in their polystyrene materials and buy 1,000 kg of polymers, of which 400 kg is recyclate. They register 400 HPEs and have a surplus of 100 HPEs. They sell this surplus to Company A.
Together, Company A and B use an average of 30% recyclate, with 20% used in window frames and 40% in electrical enclosures. This example illustrates how HPEs encourage companies to embrace sustainability and work together to achieve their goals in a greener plastics industry.
In our next blog post, we will take a closer look at the National Circular Plastics Standard. We will highlight the measure from different angles, such as what effects it has on the climate, but also whether it makes economic sense. What effect will it have on the competitive position of Dutch converters vis-à-vis Europe?
This blog post has been compiled based on information from the reports Nationaal doel plasticnormering and Mandatory percentage of recycled or biobased in plastics In the European Union by CE Delft and information from NRK on the Standard.